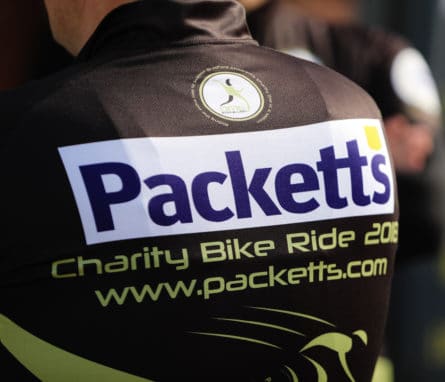 Packetts Tour De Dales 2018
Now into its third year, the event has raised in excess of £51,000 for Bradford charity, 'One in a Million'.  The 2018 Packett 'Tour de Dales' attracted 40 riders from a wide variety of businesses across West Yorkshire. Bradford Council leader, Kirsten England was amongst them. It's all part of the build-up to our centenary year.
Representing 'One in a Million' in the Packett peloton was Bradford City legend Wayne Jacobs. "The support we've had from Packetts and the riders who take part in this tough challenge has been amazing," says Wayne. "The £51,000 raised over the past three years has been a massive boost to our charity and means we can help even more young people in Bradford release their full potential and prove that they are 'one in a million'."
Here are just a few pictures from the challenge.  Congratulations to all that took part!