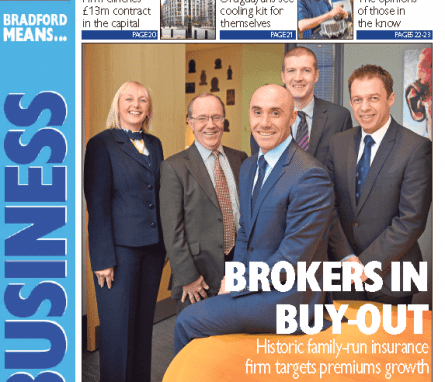 Packetts management complete MBO
Packetts management have been in the news recently announcing the completion of their  MBO.  Please find attached an article from the Telegraph & Argus dated 12 November 2014.  This follows on from an article in The Business Desk dated 22 October 2014, extracts of which are included below:
The buyout of Packetts, based in Shipley, West Yorkshire, was led by managing director Marshall Sugden.
Packetts was founded in 1920 by Sydney Packett. In recent years, it has been run by Sydney's grandsons, Andrew and Charles, who remain heavily involved in the business following the deal.
Sugden, who joined the firm last year from Bluefin Group, said: "After 94 years, we have restructured the business and are looking forward with enthusiasm.
"We will now work to push the business forward."
Joining Sugden in the new management team is finance director Rob Marshall, who joined the company from KPMG, and Wendy Butterfield and Wayne Cowley, who have been part of Packetts for the past 20 years.
Looking forward, Sugden said: "Our plan is to simply keep doing what we are good at. Client retention is extremely high and we have had some good wins recently, so that's a great starting point. It is evolving and we will continue to grow.
"In the past 12 months leading up to the MBO, we grew the top-line by 12%, so we aim to carry on this growth. Andrew and Charles will continue to look after our existing clients alongside the new management team."
Packetts specialise in commercial and SME's, the not-for-profit sector, training organisations and specialist Insolvency work.