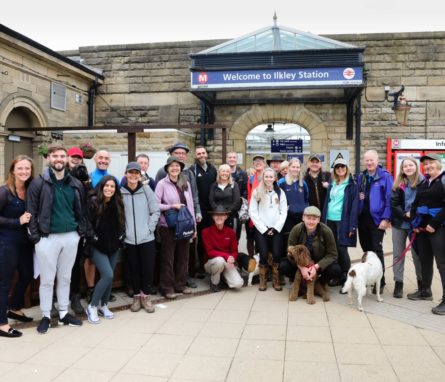 Packetts complete 'Ilkley Moor with hat' charity walk
A sponsored walk organised by Packetts, the Saltaire-based insurance brokers, has raised over £1,750 for their 2019 chosen charity, St John Ambulance.
Twenty-five walkers – a mix of staff, friends and family – undertook the 10 mile 'Ilkley Moor with hat' route. They started at Ilkley Station before climbing past White Wells, Ilkley Crag and then onto Dick Hudson's, Baildon Glen, finishing at Packetts' offices in Saltaire. Despite this so far soggy summer's weather predictions, they managed most of the route without having to don their caps.
"First aid is a simple skill, but has an incredible impact," says Marshall Sugden, Packetts' Managing Director. "We want as many people as possible to learn it, so they can be the difference between a life lost and a life saved. We aim to raise £10,000 which will help train 100 new advanced first aiders. St John have been a client for over 40 years so it seemed appropriate that we mark Packetts centenary in this way."
Packetts' fund-raising efforts are all part of the build-up to the company's centenary in 2020. Combined with a number of other fund-raising activities, the march across the moors has helped raise £6,000 towards their target. The St John Ambulance fundraising is the finale to their 5 year centenary initiative which is on target to raise £100,000 by March 2020 to support a number of charities.
Jessica Robinson, St John Ambulance Corporate Partnerships Executive added: "We are delighted with the support that Packetts have shown in organising such a variety of events and activities. They have engaged many employees and their network to work towards their 100th anniversary goal of £10,000, helping to train St John Ambulance volunteer first aiders.  Well done, and thank you to all involved!"
Thank you to everyone who took part, helped to arrange or donated in any way.