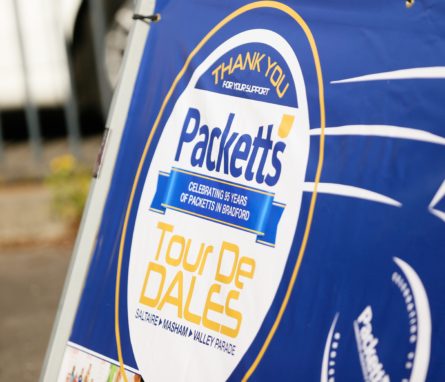 They did it!! Pedalling Packetts conquer Tour de Dales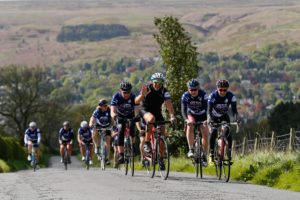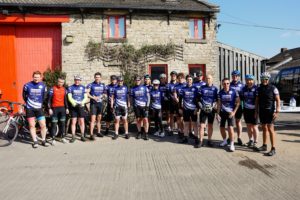 The big winner of the recent 'Packett's Tour de Dales' charity bike ride was Bradford charity, 'One in a Million'. Thanks to the efforts of 29 weekend warriors who swapped desks for bikes to battle it out over some of Yorkshire's toughest roads, over £15,000 was raised.
The two stage course took the riders from Packett's Saltaire headquarters to T and R Theakston's world famous brewery in Masham on Saturday 14th May – an 88 mile jaunt. After refreshing themselves at the brewery, they returned to Bradford on Sunday 15th May on a 100 mile route to finish at Bradford City's Valley Parade Football Ground – home of 'One in a Million' charity. Over the course of the weekend the riders collectively covered in excess of 4,000 miles, including 3,500 feet of climbing. Amongst the 'peloton' was Packett's Managing Director Marshall Sugden and former Bradford City footballer, Wayne Jacobs, now head of the 'One in a Million' charity.
Commenting on the weekend and what it achieved, Marshall Sugden said: ""We created the 'Tour De Dales' event to achieve a couple of things. First and foremost, to celebrate Packetts' 95th anniversary. At the same time, as a Bradford-based business, we wanted to raise both money and awareness for local charity 'One in a Million'. The event was really well supported, with 29 riders from a variety of local businesses. We had two great days in the saddle; the May sunshine showing Yorkshire at its best. It's been a great success and one we may well look to repeat in future years."
Wayne Jacobs, from 'One in a Million' added: "It is vitally important, as a Bradford charity working with disadvantaged children and young people across our region, that the local business community supports us. So we were absolutely delighted, that Packetts, a long established Bradford company, nominated us as they celebrate the wonderful achievement of their 95 year anniversary. We are truly grateful for all the funds raised."